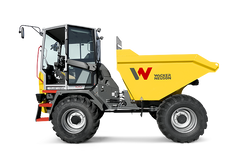 DV100
With its 180° rotation of the entire operating and seat console the DV100 Dual View sets new standards in terms of operator and construction site safety, flexibility and economic efficiency. Additionally in the matter of material handling - with a skip volume of around 4,750 l - loads of stuff can be moved around.
With the seat position, the operator changes the line of sight and the forward direction of travel. Time-consuming turning and maneuvering is therefore no longer necessary.
Especially on small, cramped construction sites, for example in inner city areas, in tunnels or on busy roads, the DV100 dual view fully demonstrates its benefits and strengths:
the driver steers the wheel dumpers with skip in the direction of travel to the construction site
loads or unloads with a complete view of the loading area
and leaves after a 180° turn of the seat console the same way with full field of view and without having to turn the vehicle.
That way, the operator always keeps an eye on the work environment - and that means significantly more safety. Even a fully loaded skip no longer obstructs the view, because the driver leaves the skip behind him like with a truck.