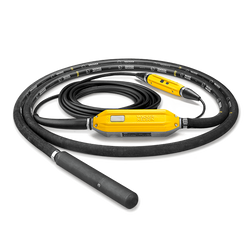 Internal Vibrator IRFU 57/120/10 GB
Electric internal vibrator with integrated frequency inverter for concrete compaction. Protection hose length of 10 meters. With integrated personal protection switch (Bodyguard™).
High frequency internal vibrator, designed for the toughest application conditions
Integrated frequency inverter, therefore two pieces of equipment in one for convenient handling and compensation for fluctuating input voltages. No external inverter required.
Power cable outfitted with Bodyguard™ (shutdown of the equipment in cases of emergency within 3 msec.) to protect the operator from electric shock if the electric power supply is insufficiently secured.
Complete potted electronic components for a long service life.
Wear resistant vibrator head made of steel, completely induction hardened.
Repairable vibrator head (exchange of individual components).
Ergonomically shaped switch box.
RPM-stable, powerful electric motor designed, developed and produced in-house – Made in Germany.
With integrated thermal overload protection breaker.
Power cable made of sturdy, flexible rubber.