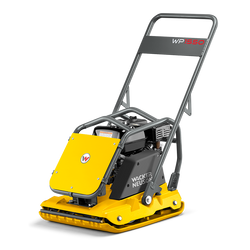 WP1550A (20″ wide)
Compact single direction vibratory plate, compacts reliably on any compactor.
The control handle allows for effortless turning and manoeuvring.
Sturdy design with minimum maintenance effort: The V-belt drive with all-round protection provides for a particularly long operating duration of the V-belt. The base plate is made from wear resistant nodular cast iron.
A sturdy tubular frame reliably protects the engine and water tank.
Suspension points in the protective cage allow for safe transport. The guide handle that can be folded forward converts the unit into a compact unit in no time.
Accessories, paving stone sliding mechanism, wheel set as well as water tank with sprinkler set available here in the shop.
PLEASE NOTE PRICES EX VAT